Well, I'm going to be a busy girl.....
I have signed up to two challenges/quilt-alongs, as well as organising one of my own..... must be a glutton for punishment... and possibly a little overenthusiastic! Fortunately, these are year-long quilt-alongs, so I do have some time to organise myself!
They do sound like lots of fun though, so here are the details, if you feel inspired to join in too.....
Firstly, my 'Simple Shapes' QAL...
I recently borrowed this book from my local library, and loved it; I find Kaffe Fassett's use of colour and pattern very inspiring, and it occurred to me that it would be a great basis for a quilt along. I was originally inspired in this idea by a blog post written by
Kim
, and with Kim's permission, I used the same idea for this project, as it sounded like so much fun.
The idea is, you choose a quilt out of the above book that you want to make,
but it must be kept secret…..
The quilt is to be made over a period of 12 months (now 11 months....), with the 'big unveiling' on
Saturday 20 June 2015 - 'in person' for the local ladies, and a cyber unveiling for those elsewhere.
I thought this was a good book to use, as they are all quilts made with basic shapes, and with many of them there is no great level of difficulty for those that may not have so much experience with piecing.
I also think the quilts in the book lend themselves to being made in any style of fabric, and can be made to a size that suits you.
I invited a few friends to join me, which they did, and many of them, and myself, have now purchased the book and are ready to start creating wonderful quilts.
So, if you would like to join in, please do; and of course, if you want to invite someone else to join in who you think would enjoy this QAL too, go right ahead - the more the merrier! And Kim, who wrote the blog post that inspired me, is joining in too. So far we have ladies joining in from Australia, New Zealand, USA and UK - which for me personally, is very exciting!!
What do you think?
Are you in?
Another challenge currently running, with the unveiling on 29/30 August 2015 is 'The Gisborne Quilters Great Shirt Challenge', organised by my lovely and fun friends,
Tracee
and
Marg
.
D
etails of this challenge are on Tracee's blog,
here
.
The third quilt-along I have joined in with is the 'Quilt like an Eagle' project, organised by
Audrey
and
Angie
.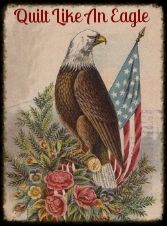 Although I am here in Australia, every Fourth of July I admire all the lovely patriotic red, white and blue quilts on so many of the American blogs I enjoy reading, and I often see fantastic 'eagle' quilts. Audrey and Angie had each always harboured a desire to make one too... and thus the Eagle Quilt QAL was born.
A
blog
has been started just for this quilt-along (must remember to do that...), and lots of ideas are already percolating.....
The 'show and tell' for this quilt along is on 4 July 2015.
Phew! Three fun QALs/challenges, and lots of fun to be had, and with a year to make a quilt - or two..... maybe you might be inspired to join in too!?